Diversity Management and Inclusion
OBS! NOTE! This study program  is currently being re-designed! All applicants interested are invited to check this space again in January 2018, when further details will be available.
Never before have cultural dynamics impacted more our life across all parts of society and in all workplaces. Whether you are a practiced jetsetter or a social rookie, in a management position or a "simple worker", an immigrant or a native, an experienced employee or someone who is looking for their first job, you need to navigate common situations like this:
Generational
With five generations – Traditionalists, Boomers, Gen X, Millennials, iGen – active in all aspects of society, there is great likelihood for intergenerational conflict. For example, how does a 20-year-old plumber work alongside one who is significantly more experienced and must yet train them in the use of iPads to schedule washing machines?
Ethnic
We now interact on daily basis with people of different ethnic backgrounds, as friends, neighbours, customers, colleagues, bosses, employees. We may use a common language, but how can we, for example, develop plurilingual skills and make sure that we do not get stuck in word forms, but rather pay attention to meaning? How much of someone's ethnic history should we know in order to understand them?
Gender
As the definition of gender is being shifted from biology to sociology, the possibilities for misunderstandings and conflicts caused by gender diversity are numerous. Do we even understand what LGBTQIAP2 stands for? And is feminism an ideology that helps everyone, or a dogma meant to push men in the background?
Religion
The subject of religion is often avoided in any type of conversation, but belief systems are defining most of our values and attitudes. Is political correctness anything else than a new religion? Is our understanding of "good" absolute or is it just a relative belief?
And these are just some of the many aspects of diversity that we come across and must address on a daily basis.
Who Should Apply?
The course is necessary for anyone who lives outside North Korea. In any society where diversity is recognised even slightly, you will need the skills to recognise this diversity, address its challenges and promote its benefits. From unexperienced youth preparing for a career to front-line managers and high-level politicians, this Diploma will improve your ability to function more effectively with other people, colleagues, and clients.
The Diploma is designed as an "upskilling pathway", which means it is possible for you to take only parts that you need for your own development. An initial test and interview can be used to identify these needs and prepare an individual learning path, which gives you the option to complete only some of the modules. Participants will also get the opportunity to prepare a Diversity Project, whose theme will be decided to respond to the needs identified and to help you in your everyday life (it can vary from an analysis of social group diversity or diversity policies in an area of interest, to an Annual Diversity Report in a company or a complex Diversity and Inclusion Plan).
The language of instruction is English. The European Commission has partly financed the course development.
Application Procedures
You can apply for admission to the college by filling in the online APPLICATION FORM, and attaching copies of your school reports and certificates to it, by 7 August 2017.
The number of places allocated to non-EU citizens is now full.
Henceforth applications are accepted only from citizens and permanent residents of the EU and the Nordic Countries.
Scholarships
A limited number of scholarships will be available for citizens of countries included in the OECD List of Developing Countries or Territories, irrespective of whether they reside in their countries of citizenship or in Finland. The scholarship will cover up to 50% of the regular fees for tuition, board and lodging, provided that the student completes the entire programme.
Please contact us for further details.
In case you are applying for a scholarship, your application must be received before 28 July 2017 at 12h00 EET.
Note that the College cannot offer assistance or counselling in the visa or residence permit application process, but will provide the letters of invitation requested by the authorities.
What you learn
The study programme prepares you to be a "people's person", to deal successfully with people and their unique characteristics in a group of friends and in your social circles, to work effectively with and make best use of diversity. You will walk away with:
Social competences:
an understanding of your own cultural and diversity profile
the ability to determine whether an issue is interpersonal or diversity-related
the skill to assess the "diversity intelligence" of others
the skills to identify and address the challenges presented by diversity
the "knack" to navigate the many layers of diversity, and gather around you people of different backgrounds
a positive attitude towards difference that helps you make the most of the diverse social network you are part of
Job-related competences:
the knowledge to assess a workplace for barriers and challenges that obstruct diversity and inclusion
the knowledge to develop effective initiatives that promote the strengths of diversity and inclusion and can help workplaces make the most of these strengths
techniques and tools for measuring diversity and inclusion in different settings
the skills to act as adviser to executive management and policy makers on diversity and inclusion strategies, progress, and compliance
the ability to investigate and resolve issues of discrimination
the skills to plan and implement strategic diversity and inclusion plans, aligned with business goals in the case of private companies
the ability to communicate the diversity and inclusion assessment, plan, and status of goal attainment, and to use these in positive marketing
Job profiles supported:
Diversity and Inclusion Officer
Human Resource Adviser
Diversity Policy Adviser
Conflict Management Specialist/Analyst
Modules
The courses in this programme will be highly interactive and will teach you how to recognise, analyse and manage the important details of living and working in a diverse society. It will provide the essential history of diversity and an analysis of its many aspects, the ideological and legal framework for inclusion and non-discrimination, and an in-depth view of different theories and approaches to managing diversity in social and economic environments.
The challenges, barriers, and benefits of diversity will be discussed and explored, helping you to understand how to have a strategic influence in a group. The Diploma will introduce best practices in the field and will present the role and competencies of an effective diversity practitioner.
The complete course will run for 8 (eight) months. However, the programme is structured in eight consecutive modules, each counting 100 work hours and having a different main focus, but with a certain degree of continuity between them. There is also a project work module that counts for 100 hours of work to be completed by the end of the course.
You may therefore decide to attend one, two, or more of the following modules:
DMI1 – Communication Management
Theory of Communication, Communication Styles, Non-Verbal Communication, Negotiation Techniques, Talking to Foreigners, Understanding Foreigners, Plurilingual Skills, Using Language and Image in Communication
DMI2 – Cultural History
Theory of Culture, Cultural Dimensions, Identity Building, Values and Attitudes, The Role of Ethics and National Culture, Philosophy, History of Religions and Belief Systems, Culture and Politics
DMI3 – Intercultural Communication
Cross-cultural vs. Intercultural Skills, Barriers to Intercultural Communication, The Developmental Model of Intercultural Sensitivity, Conflict and Negotiation
DMI4 – Managing Cultural Diversity
Multicultural Groups and Societies, Stereotypes and Prejudice, Elements of Diversity, Clash of Moralities, Social Class Hierarchies, Power and Politics
DMI5 – Managing Demographic Diversity
Population Changes, Ageism, Gender Issues, Racism, Immigration and Acculturation, Human Rights Legislation, Case Studies of Discrimination and Equal Opportunity Policies
DMI6 – Managing Diverse Teams
Team Building Strategies, Managing Group Dynamics, Team Role Inventories, Individual Differences and Perceptions, Managing Stress and Emotions, Leading People from Within, Designing a Motivating Diverse Work Environment
DMI7 – Business Administration and Management
The Interactionist Perspective, Person-Organisation vs. Person-Job Fit, The Ethics of Finance and Corruption, Startup 101 – Benefits and Challenges of Diversity in Start-Up Businesses, Decision Making Strategies, Cultural Understandings of Corporate Social Responsibility, Case Studies including JCI Junior Chamber International and some of the Top 50 Companies for Diversity
DMI8 – Work in International Organisations
Organisational Behaviour, Organisation Structures and Diversity Makeup, Organisational Culture, The European Intercultural Workplace, Case Studies including The United Nations, Amnesty International, The Red Cross, Greenpeace, OECD and The European Union
DEW0 – Project Work
A final project is obligatory for students who want to obtain the Diploma. This practical work will provide them the opportunity to demonstrate the developed competences and to acquire new skills through the elaboration of a Strategic Diversity Plan and/or Report for a specific policy area or an organisation, company, civil society group, etc. The plan will be assessed by senior-level persons in the field who will provide feedback about plan designs, content, sustainability, and possibilities for success.
Radu Szekely
head teacher for Diversity Management and Inclusion
Education/exams:
MA/FM, PGCE
Radu has a strong academic and professional background in education and training, as well as wide experience in politics, civil society (NGO) and business. He has taught for the last 20 years in all forms of education, from primary to university, and has worked in a variety of countries including Cyprus, England, Finland, France, Romania, Spain.
He was the founder of the first Cultural Diversity Management programme in Finnish adult education. He has coordinated several international education projects funded by the European Commission and has received a Lifelong Learning Award from the Slovenian Presidency of the European Union for promoting mobility in adult education.
What will the students take with them after a year on your study programme?
At the end of their year at VNF students will know how to get involved in today's global society, in its development and its leadership. They will have the skills to navigate the many layers of diversity, will know how to recognise and work with diversity, how to make the best use of it, and how to be a "people's person" – someone who feels at home in every cultural context. They will use English fluently and confidently at all levels of work and social life, which will help them go through the modern world at a faster pace than others.
My greeting/philosophy of life/slogan:
#beingmehasitsprivileges
An experienced team of lecturers and trainers from around the world are involved in the planning and the delivery of the Diploma:
Lisa Vernon
MBE, MA, MBA (UK)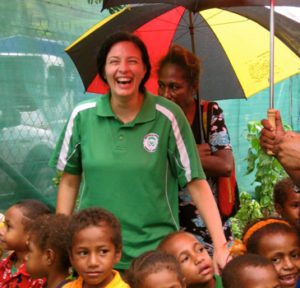 Lisa has worked in the field of management, policy and education for over 20 years and has facilitated policy briefings, public hearings and debates for a number of companies, government agencies and NGOs. Her most recent experiences include management positions with organisations like the Historical Royal Palaces or Derbyshire Consortium in the United Kingdom. As former Head of Policy and Research at the Campaign for Learning she has gained a broad knowledge of training people that work in and with diverse groups. Recently she has been working in Papua New Guinea on community participation projects and with the Australian High Commission. She is a skilled facilitator and creative in her approach to engaging learners. Her qualifications include an MBA (Masters of Business Administration) with International Development as major, and a Post Graduate Certificate in Education. She was recently awarded and MBE by Her Majesty Queen Elizabeth II.
Tomi Virtanen
MA (Finland)
Tomi is the founder of Doerz.co, a start-up sharing economy marketplace. He is a graduate in Management and Organisations from Turku School of Economics, and spent time studying Strategic Management and Psychology at Nelson Mandela University in Port Elizabeth, South Africa. He has a strong background in leading business and voluntary organisations, developing businesses, acting as Board Member and Adviser. Before his start-up career, he was Assistant Manager at the Turku Chamber of Commerce and continues to be a member of Junior Chamber International JCI Turku.
Celita Eccher
(Montevideo, Uruguay)
Celita studied Social Work at the University of the Republic of Uruguay (UDELAR) and has a vast experience in promoting and managing diversity. She is primarily a feminist popular educator, someone who believes in diversity as a value in itself. She was also a professor at the Department of Social Work of the University of Social Sciences in Montevideo and contributes to the Rural Craftwomen's Cooperatives in Uruguay and the women's movement at world level. Celita has been part of the International Council of the World Social Forum since its very beginning. She was the General Coordinator of the Popular Education Network of Women from Latin America and the Caribbean (REPEM) and Secretary General of the International Council for Adult Education (ICAE). She is currently Member of the Board of Directors of Development Alternatives with Women for a New Era (DAWN), a global network where she also acted as Regional Coordinator in the past.
Sanna Antola
MA (Finland)
Sanna is a seasoned expert in Intercultural Communication and Human Resource Management. She has studied in Finland and France, and worked in both the public and the private sector. She has gained work experience with youth and intercultural issues in Finland, France and The United States of America, as well as in trainings run by international organisations. She is a great fan of the Developmental Model of Intercultural Sensitivity, which she had the chance to study directly with its author, Milton Bennett. She travelled extensively for research purposes, from Nicaragua to China. She has conducted research in the challenges caused by cultural diversity and on the political aspects of multiculturalism. She was one of the main researchers in the Finnish team that contributed to the European Intercultural Workplace studies.
Kati Woullet-Bernal
(United Kingdom)
Kati will work with students on case studies based on her own direct experience of diversity management. She has lived in the Far East, and worked with research groups in very remote areas of Borneo (Malaysia) and the Philippines. She has also supported inclusion programmes for children with disability and campaigns for creating decent workplaces for women in the Far East.
Ulla Ladau-Harjulin
MA, OAL (Finland)
Previously lecturer in Intercultural Communication at the Swedish School of Business and Economics in Helsinki, Ulla has vast experience in communication training and is author of numerous intercultural training materials that are used widely in Finland. She was among the pioneers of cross-cultural training in Europe. Has considerable expertise in using stories and text analysis to bring cultural issues to the fore. Has conducted research in communication and has been part of research groups at European level. She was awarded the "Ordre des Arts et des Lettres" by the French President for her contribution to the development of intercultural understanding.